Our safety program has been audited and received a Certificate of Recognition (COR) under the Alberta Construction Safety Association (ACSA). We are also recognized as one of Alberta's Safest Employers through the Partnerships in Injury Reduction Program, the Alberta Government, and WCB.

Our comprehensive Safety Management Program covers Company Safety, Environment, Company Rules, Assignment of Responsibility, Right to Refuse Dangerous Work, Hazard Assessment and Controls, Safety Work Practices and Job Procedures, PPE, Maintenance and Inspections, Emergency Procedures, and Electrical Safety Program (ESP).
Our safety programs include daily, weekly, and monthly safety meetings, daily tailgate meetings, regular vehicle inspections, reporting all incidents and accidents immediately, and ensuring that industrial safety standards are strictly adhered to. To ensure that we maintain the highest standards of safety we require that all employees provide driver's abstracts and complete comprehensive drug and medical tests before they are hired.
Our training policy covers New Employee Orientation, Safety Training, Management/Foreman Safety Training, First Aid, and Mentoring Development and Competency Reviews. To ensure all company personnel are properly trained, we provide employees with specific training and courses related to their roles and responsibilities which may include: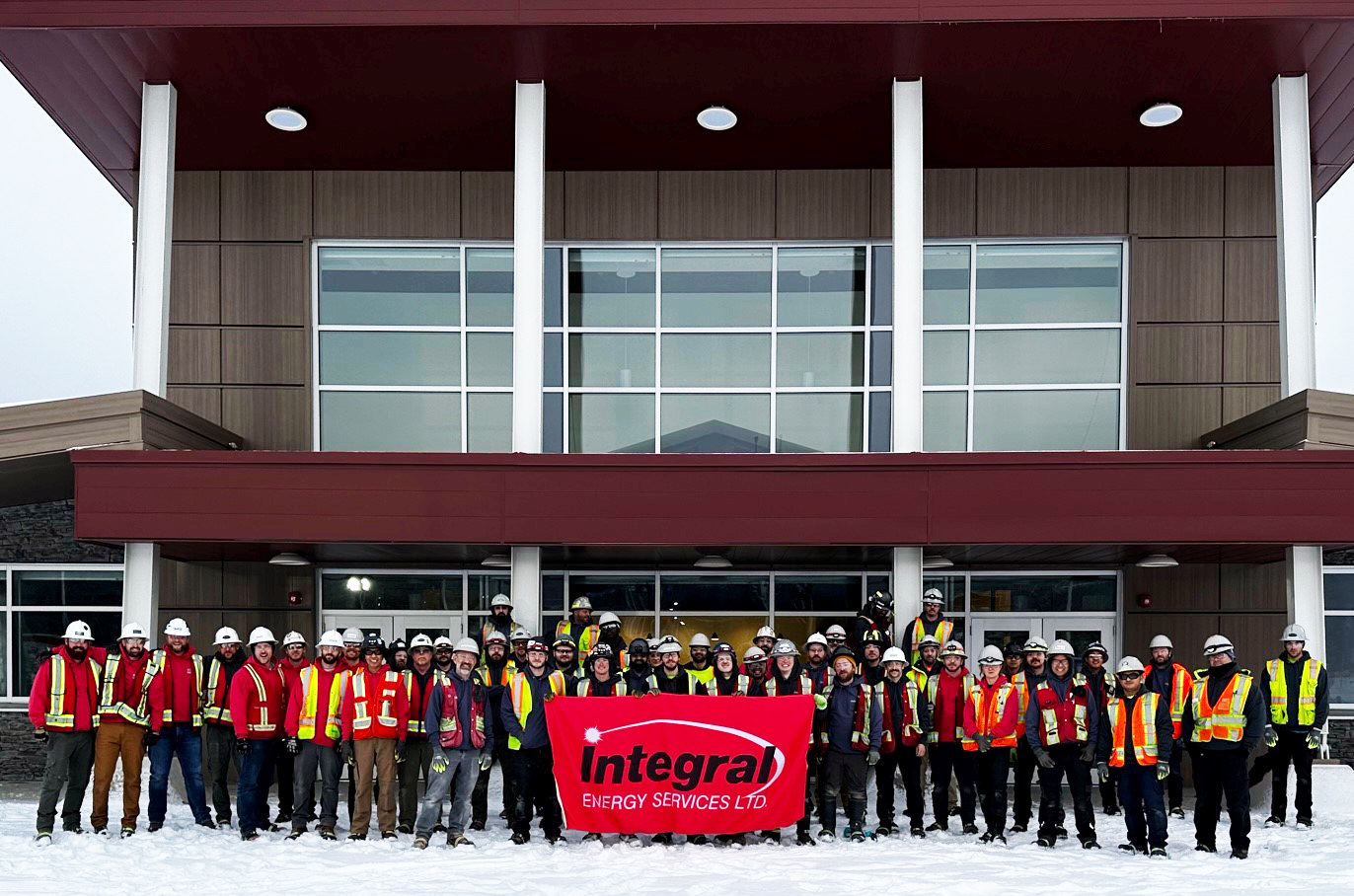 December 2022
Another safety milestone for the Integral team: Through extreme weather conditions, technical scopes of work and thousands of energizations throughout site, they were able to successfully go 1,350 days without a recordable injury, over 400,000 hours completed across multiple clients and scopes, 50,000+ BBO's submitted, and most important everyone went home safe every single day.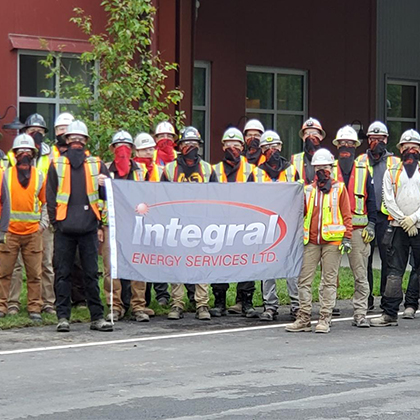 October 21, 2020
Cedar Valley Lodge Camp Project, LNG Canada Facility: Integral achieved a milestone of 500 days with zero incidents or injuries. Over the past 500 days, the on-site crew expended over 110,000 hours and peaked at 60 workers working through some extreme climates and work scopes. CVL management indicated this achievement is because of the commitment of both the workers and supervision into the BBO program. Over the course of the job, they submitted 12,066 BBO's and 100% participation every day from all employees. The constant interactions and hazard identifications helped everyone go home safe every day.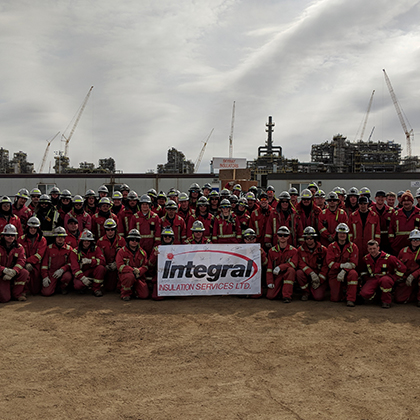 April 9, 2018
Suncor recognized Integral Energy for successfully reaching another 365 days recordable injury free, previously reaching 435 days in April 2017. There was a total of 602,000 man-hours worked without a SIFp classified incident and 1,006,165 man-hours worked without a lost time incident. The client issued a newsletter stating the following: "These statistics show Integral Energy's commitment to safety leadership on the Fort Hills project and their ongoing dedication to "Safety Above All Else". From their upper management to craft it clearly shows their commitment and belief in doing it the right way, with integrity."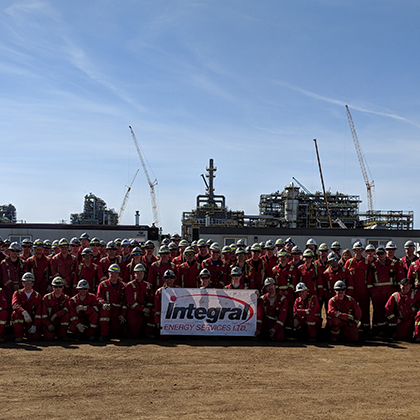 January 20, 2017
Integral received the Suncor Safety Leadership Award at Fort Hills Secondary Extraction - KBR Wabi for exceeding one year (365 days) and 337,431 exposure hours without a lost time accident, recordable injury or high potential near miss. Integral Energy had more than 160 team members performing all electrical, Instrumentation, telecommunication construction and maintenance activities. With more than 330,000 man hours, Integral installed approximately 85,000m of cable tray, and 290,000m of cable and terminated 165,000 cables while maintaining a productivity factor of >1.17 and SPI (schedule performance indicator) of >0.97. Integral was closely involved in the early planning and development of safe execution plans and FIWP (field installation work packages) and extensively used 3D model software during the review and translation of the FIWP with crews and supervision to increase productivity.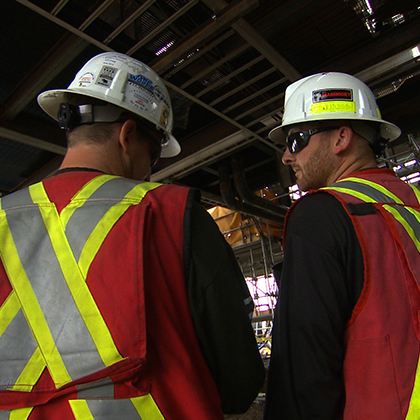 May 2015
Integral received recognition in May 2015 from WCB Alberta and Alberta Ministry of Jobs, Skills, Training, and Labour for Integral's diligence in safety and effective return-to-work programs as part of the 2014 Partnerships in Injury Reduction Program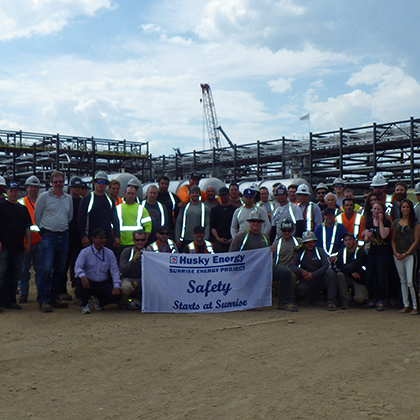 2013 - 2014
Integral Energy received the Contractor of the Month Safety Award at the Husky Sunrise CPF Project 13 times during 2013 & 2014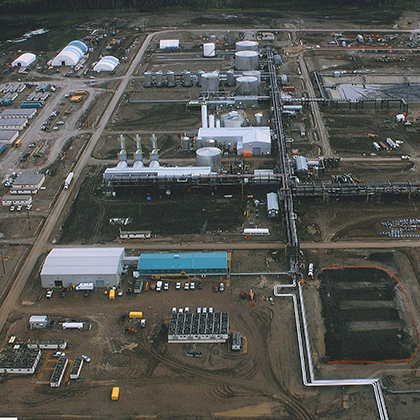 2010
Integral received a safety award from Statoil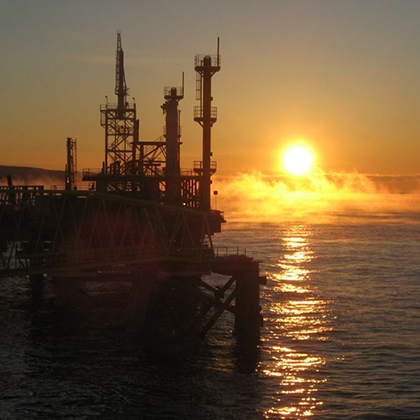 2009
Contractor of the Month award for outstanding performance and lasting contribution on the Canaport LNG project
Committed To Health And Safety
We are committed to exceptional health and safety practices to ensure the safety of the communities we work in, contractors, partners, and employees. We take a proactive approach to identifying, preventing, and mitigating safety issues, while continuously seeking ways to improve safety performance as one of our top priorities on any project.
Our risk-reduction strategy includes the development of numerous safe work practices to support the optimal safety of the worksite. This includes daily, weekly and monthly safety meetings, regular vehicle inspections, immediate reporting of any/all incidents, and ensuring that industry safety standards are understood and practiced by all team members.
See how we can make your next project a success
Send us a message or give us a call to get started.